William Licea
William Licea is a Cuban-American author and construction industry leader in New York City. But that wasn't always the case. What makes Will's story one for the ages is that he is an ex-con who spent his prime years, between 18-38 years old, in prison before completely transforming his life. His journey is a testament to what someone can accomplish through sheer desire and determination, fulfilling a promise he made to his mother upon his release that he would make something great out of the life that he was given.
William Licea es un autor Cubano-Americano y líder de la industria de la construcción en la ciudad de Nueva York. Pero no siempre fue así. Lo que hace que la historia de William sea una para todas las edades es que es un ex convicto que pasó sus mejores años, entre dieciocho y treinta y ocho años, en prisión antes de transformar completamente su vida. Su viaje es un testimonio de lo que alguien puede lograr a través del puro deseo y determinación, cumpliendo una promesa que le hizo a su madre después de su liberación de que haría algo grande de la vida que se le dio.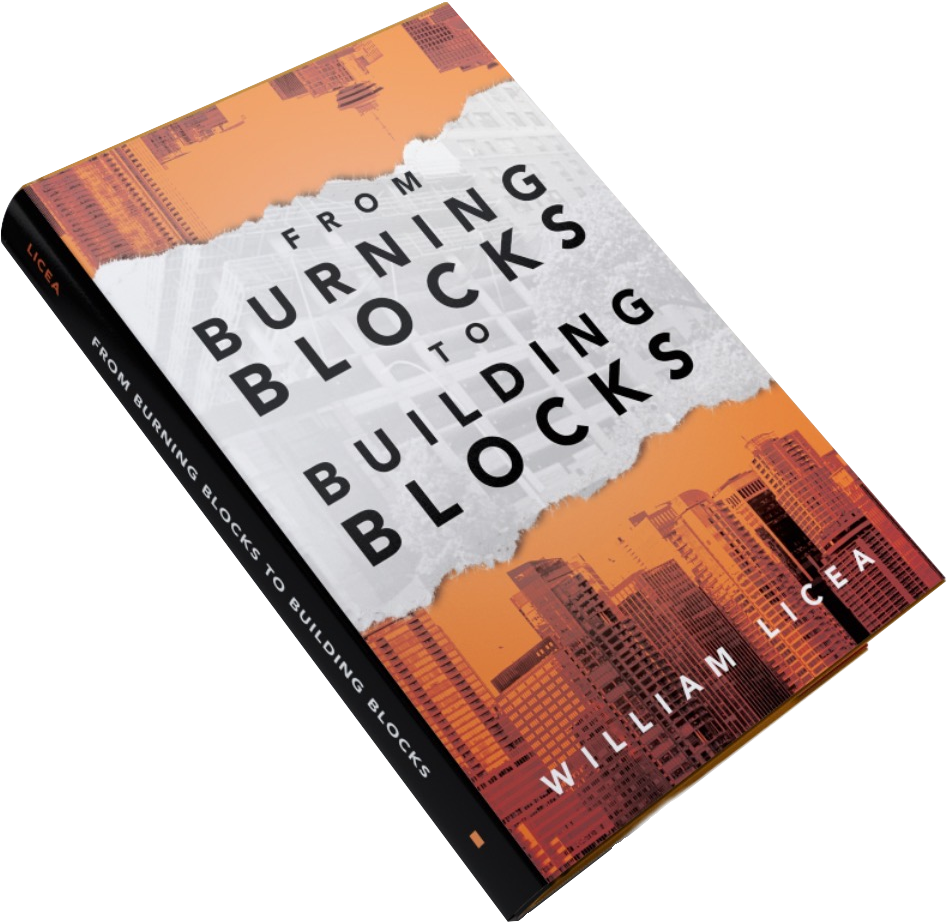 From Burning Blocks To Building Blocks
Del Ardiente Fuego Al Paraiso
From Burning Blocks to Building Blocks tells Will's story of how he got into the life of crime at the tender age of twelve by stealing and burning cars, to gradually more extreme and violent crime. After multiple arrests during his teenage years and a stint in a juvenile detention facility, at the age of eighteen he was finally locked up for twenty- years for multiple violent crimes. Once in prison, Will's true struggle began—the one for survival. From the daily grind of prison life, to regular gang warfare inside the penitentiary walls, not only did Will survive, but upon his release he made a promise to his mother that he would rebuild his life and make it a great success.
Del Ardiente Fuego Al Paraiso cuenta la historia de William de cómo se metió en la vida del crimen a la tierna edad de doce años robando y quemando autos, hasta un crimen gradualmente más extremo y violento. Después de múltiples arrestos durante su adolescencia y una temporada en un centro de detención juvenil, a la edad de dieciocho años finalmente fue encerrado durante veinte años por múltiples delitos violentos. Una vez en prisión, comenzó la verdadera lucha de William, la lucha por la supervivencia. Desde la rutina diaria de la vida en prisión, hasta la guerra regular de pandillas dentro de los muros de la penitenciaría, William no solo sobrevivió, sino que tras su liberación le prometió a su madre que reconstruiría su vida y la convertiría en un gran éxito.
About The Author
Sobre el Autor
Introduced to the criminal life at an early age on the merciless streets of the South Bronx, William Licea, aka Cuban Will, the son of Cuban immigrants spent most of his youth and adult life in prison, but nothing could prepare him for being released back into society at nearly forty years of age, with no life skills other than the will to redeem himself and atone for his past sins. At age thirty-eight he started at the bottom of the New York skyscraper business as a day laborer and gradually worked his way up to being an industry leader where he continues to give other inmates a second chance by employing those willing to work in the construction industry. The title, From Burning Blocks To Building Blocks, is not only metaphor, but reflects Will's actual past and present life.
Introducido a la vida criminal a una edad temprana en las calles despiadadas del Sur del Bronx, William Licea, tambien conocido como Cuban Will, hijo de inmigrantes Cubanos, pasó la mayor parte de su juventud y vida adulta en prisión, pero nada pudo prepararlo para ser liberado de nuevo en la sociedad a casi cuarenta años de edad, sin más habilidades para la vida que la voluntad de redimirse y expiar sus pecados pasados. Y así, a los treinta y ocho años, comenzó en la parte inferior del negocio de los rascacielos de Nueva York como obero y gradualmente se abrió camino hasta convertirse en un líder de la industria, donde continúa dando a otros reclusos, hombres y mujeres, una oportunidad al emplear a aquellos dispuestos a trabajar en la industria de la construcción.